Thursday
Friday
Saturday
Sunday
Monday
Tuesday
Wednesday
24
25

2:00 pm

GMT -4

Veteran Hel Ra Trial

26

4:30 am

GMT -4

Prismatic Prison

12:00 pm

GMT -4

Drunken Dungeons

27
28
29
30

2:00 pm

GMT -4

Normal Halls of Fabrication
*Screams with excitement!*
Greetings Reapers,
For those of you who missed the announcement here are some key points for you as well as some hand links so you can find out more.
Save the Date!
Markarth DLC comes to the PTS on Monday 21st Sept - PATCH NOTES TO READ!
Lost Treasures of Skyrim a Greymoor Community Event starts on Wednesday 23rd Sept
Markarth DLC comes live to PC/Mac on Monday 2nd November
Lost Treasures of Skyrim
Wednesday 23rd Sept - Monday 5th of October - see calendar for times.
During this event you can earn additional rewards from resource nodes, bosses and even the Trial.
What you want to do is a Greymoor Daily Quest, for the first one each day gives you a "Bulging Box of Pillage" something like that ...sounds dirty!
In your bulge you can find Greymoor Alchemy Ingredients, Blackreach and greymoor Motif chapters AND Sovngarde Style Pages. As well as the Furnishing Patterns and a whole host of other useful or valuable items.
You can continuing earning standard pillage boxes from Harrowstorms, Bosses and Chests etc. which have all of the above but the drop rates are a bit lower for the best stuff.
Event Tickets
You know that Daily quest you just did you will also gain 3 event tickets when you hand it in, you can even earn them by completing the Kynes Aegis Weekly Trial Quest.
This is your chance to get the final berry for your Mossheart Indrik Mount and the Mossheart Indrik Pet! you can also buy Sovngarde Style pages you are missing.
Once you have completed your Daily Daily Quest however remember this is the Community Event
You want to be digging up Antiquities these can be ANYWHERE in Tamriel.
*Tip* collect leads now and save them for the event!
ZoS will be keeping a tally of every Antiquity excavated and when we reach certain targets from all platforms rewards will be released to all Gerymoor Chapter owners.
1. Cool Body Tattoos
2. A purple Vale Fawn pet
3. A NORD HOUSE! and if that wasn't enough you get a a Guest (NPC for your home) who is an antiquarian.
So let's work together to get this done, with this in mind we will NOT be adding any more events to the calendar during this period.
Markarth DLC
We visit MArkarth the Dwemer city where the Reachmen live, learn about their Hagravens their witches and culture. You have quests both above ground and below back into Blackreach with strange new creatures!
But I promised you highlights so how about
A NEW SOLO ARENA - Vateshran Hollows
There are 7 bosses in total with 4 distinct areas or wings. Molag bal, Mehrunes Dagon and Hircine each with 2 bosses and unique challenges. You can choose which order to complete these areas in but be warned when you complete 1 of them the next one gets harder so choose your order wisely. Then you have a final area where the 7th Final Boss is (which we haven't seen) We have a bet going in our #markarth-dlc channel on Discord on which Prince's Realm it will be.
Normal and Veteran mode. Leader boards AND Loads of Achievements to earn including a new skin that looks like Death from Darksiders combined with Venom from Marvel. You are consumed by shadows it's so cool.
And the all important Master Weapons as well as 3 new sets.
Items & Collectables
17 New Item Sets including 2 Mythic Antiquity Items. 20 New Antiquities to find with a New Reach Motif, and a 5 part Dwemer Scarab pet.
Lots of Dwemer furnishings and patterns to find.
Base Game - Update 28
I was very excited for Markarth after watching the video even though it wasn't the college of winterhold like I hoped but it is nothing compared to the exciting additions coming to the base game.
Transmute Crystals - We are finally getting an increased capacity you can now hold 500 crystals or 1000 if you are an ESO plus. OMG goodbye Geodes.
That is NOT all. say hello to bank space, bag space and chest space.
The Item collection (Stickerbook)
Any dropped set including Monster Helms can be added to the sticker book by binding the item to you. You can then deconstruct the item as normal. Here is the exciting part once you have collected that item for that set you can use Transmute Crystals to reconstruct that item. You still need the Crafting Materials and Skill to do this. You can also Deconstruct a Reconstructed items and get a FULL refund of the materials you used to make it. *I feel slightly faint* These are ofcourse bound items, Account wide and the Collections window has both filters and text search options.
Our hoarders and collectors are now in fits of joy with clear bag space and a very nice touch the more items of a set you have in your collection the fewer transmute crystals it costs to reconstruct an item of that set! Well Done Zos Well done.
Crafting Writs
They had added useful additions to the Crafting Window to help those not using the Lazy Writ Addon to craft their Daily Writs and Master Writs with handy filters and what you need to make right there on your screen without switching back and forth. It does not replace the Addon.
Combat Preview
As you may have read in the recent article on the ESO Forum. They are balancing the buff system with combining the Spell and Weapon Critical into a single Stat "Critical Chance". They are also combining Penetration in a single statistic. They have also added a new Buff called "Brittle" which allows you to trade a weakness to Crit damage for higher Crit damage.
There are adjustments to Frost staff Tanking to make it easier to choose between tanking and support DPS, the major change is moving the taunt from heavy attacks "Tri focus" and putting it on Frost Clench, so no more accidental taunts.
Group Battle grounds are back you can now choose between solo battleground queue where everybody is a solo player OR random battleground queue which allows you queue as 1 - 4 players so you are likely up against premade teams. You will no longer be able to choose which type of battleground you queue for but can once again play alongside your guildies :)
Useful Links
Antiquities Locations List - Alcast for the Lost Treasures of Skyrim
Antiquity Leads Addon - Display Leads
Event Tracker - To Track your Event Tickets By Kelinmiriel
The Imperial City Celebration Event
Thursday 3rd September - Tuesday 15th September.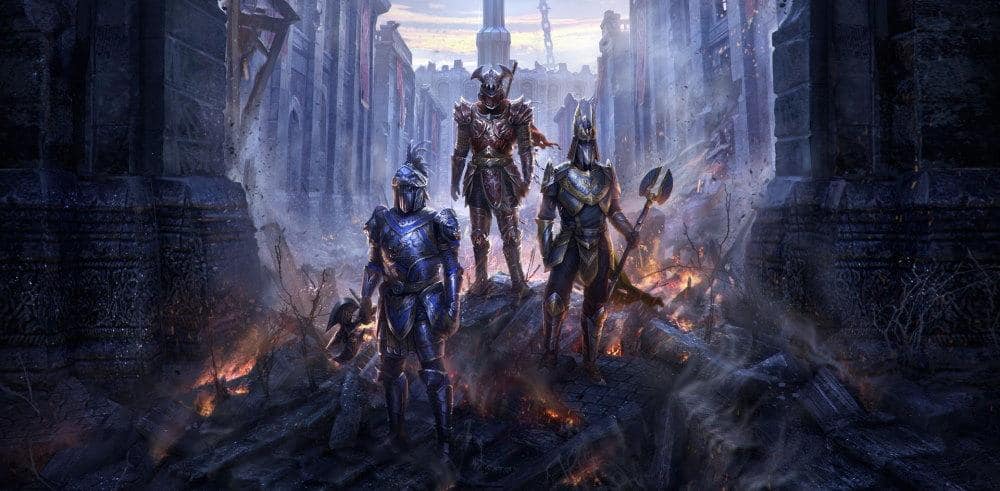 You can get access to the Imperial City DLC via ESO Plus or for FREE from the Crown Store
Glorious Legion Zero Strongboxes
1 per day when you hand in your first District daily quest or defeat the final boss of either White Gold Tower or Imperial City Prison.
Regular Legion Zero Strongboxes
Defeat Sewer bosses, patrolling bosses, imperial dungeon bosses,
Opening chests and safe boxes
Completing other daily quests.
The boxes contain rewards such as Tel Var Stones, Crafting Materials, Key Fragments, Valuables (to sell for gold), Xivkyn Motif, Legion Zero armour style pages, Tools for Domination weapon style pages. The rarer items are found more frequently in the glorious Strongboxes.
Event Tickets
You can earn 3 per day (Usually resets at 7am BST)
Download the very useful addon "Event Tracker" created by our wonderful Kelinmiriel
Gain your event tickets by completing your first district daily quest, or defeating the final boss of imperial city prison or the white gold tower dungeons.
You can buy items from the Impresario for event tickets
Mossheart Indrik Berries
Indrik Feathers
Imperial and Daedric Furnishings
Imperial City Style Pages